Note: Prod. by Marina. Exec. prod. Roy Kamen.
DJR Review: Marina's third release on MRK Records features an original song, "The Silent Night," written by Marina and Tony Marinello, plus a strong remake of the classic, "Rocket to Your Heart." This release is available on 12" vinyl and CD single.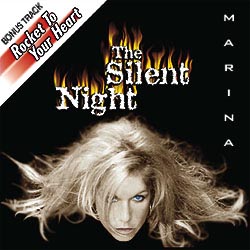 "The Silent Night," in its Extended Radio Mix, is a slinky, yet energetic, clinking and clanging, electro track with a persistent stuttery organ, Mid-Eastern-style strings, interesting jolting halts and overall mystical tone. Marina weaves a steamy romantic mood with her marvelously rich vocals. The Radio Mix and XXX Mix are similar, the former with more emphasis on the vocal sections and the latter with more instrumentation, dubs and breaks. The song is given a brighter flavor in the House Mix with a strong, steady drum beat broken by intermittent rolls and a dubby vocal backing.
The bonus track, a remake of Lisa's 1983 hit, "Rocket to Your Heart," updates this classic with an even more energetic feel. The production is modern yet true to the original in style. Marina's powerful vocals make this a rousing rendition. The Radio Version on the CD single leaves one wishing for more.
To find out more about MRK Records and Marina, check out the MRK Records web site at: http://www.mrkrecords.com
Real Audio samples are available at the MRK site.